Pickleball Workshop: Beginner YD200
Saturday: 10:00 AM – 11:00 AM

5/1 – 6/5
Sessions: 6
-4 Seats Available
Description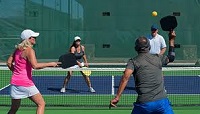 Never played pickleball or played before and want a better understanding of the basics? The clinic consists of learning basic rules and basic strokes for the first half hour followed by practice games for the last hour. Get an aerobic workout and have fun doing it. Become a Pickler! Share the passion, swing a paddle, meet new people, and join in the fun of one of the fastest growing sports sweeping the country! There are more than 3.3 million players in the United States.
Pickleball was invented in 1965 by a Washington State congressman and two friends, pickleball - whose name comes from either a cocker spaniel owned by one of the founders or the pickle boat used in crew, depending upon whom you ask- is a mash-up of tennis, badminton and ping-pong. Like tennis and paddle tennis, pickleball a multigenerational game. Once you've gained the skills and learned the scoring, gathering with other picklers at local Rec centers, school gyms and outdoor courts, is a very affordable and fun sport.
---
---
Registration has ended. Please call 203 834-7694 for late registration.