Zentangle®: Introduction FA
Monday: 7:00 PM – 9:00 PM

10/5
Sessions: 1
3 Seats Available
Description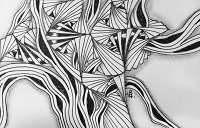 The Zentangle® Method is an easy way of creating beautiful images by drawing structured patterns called tangles. This promotes mindfulness and fosters self-esteem, increases focus, promotes relaxation, ignites creativity, and relieves stress. People of all ages and skill levels can create Zentangle® art and have fun in the process. Even if you think you cannot draw a stick figure, you can learn the Zentangle® method and create stunning original art.
Please purchase the following materials prior to class (if ordering online, please take delivery times into consideration):
Betsy Huffman talks about the mindful art of Zentangle®, the four basic design elements, how it can reduce axiety and bring calmness into anyone's life. Listen here.
This class is taught through Zoom. Please ensure your device supports this platform prior to registering. Click here for more information.
---
---
Registration has ended. Please call 203 834-7694 for late registration.