Bridge: Advanced HC02
Wednesday: 3:30 PM – 5:30 PM

10/7 – 11/4
Sessions: 5
8 Seats Available
Description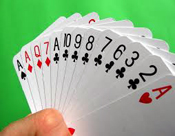 This class is designed for players who are ready to move beyond the basics. For players, who already posses the knowledge for Stayman and Transfers, this class will focus on Negative Doubles, Splinters, Roman Key Card Blackwood, Support Doubles and New Minor Forcing.
The class has been updated technologically to reflect the current climate. The instructor will share PowerPoint presentations followed by play of the hand using Bridgebase and ACBL software. Each class will include a short lecture followed by bidding and play of real hands.
Required text: Bridge for Everyone, D. W. Crisfield, and Twenty Five Bridge Conventions You Should Know by Barbara Seagram and Marc Smith. Both are available on Amazon.
Catch Mike's enthusiam for bridge when you listen to him here.
This class is taught through Zoom. Please ensure your device supports this platform prior to registering. Click here for more information.
---
---
Registration has ended. Please call 203 834-7694 for late registration.