Tune Up Your Golf Skills: Beginner GOLF01
Friday: 5:00 PM – 6:30 PM

9/18 – 10/16
Sessions: 5
2 Seats Available
Description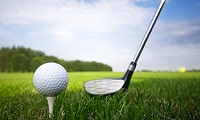 New instructor for winter/spring 2020.
This class is for students new to the game as well as those with some experience on the golf course. Golf equipment will be provided, although students may bring their own clubs. Learn golf swing basics including grip, stance, balance, and posture as well as different shot types. Students will also learn the basic rules and etiquette of golf and how to manage the course like a pro. Practice shots will be hit into a net to help everyone get a feel for the game. Golf itself and even practicing the swing is excellent for one's balance and hand-eye coordination. Students will notice improvement in these areas.
Session A - Please note there is no class on Thursday February 13.
---
---
Registration has ended. Please call 203 834-7694 for late registration.