Winter/Spring 2023: Technology
PRIVATE LESSONS are available for individuals or companies for all software applications. If interested please email tufariellod@wiltonps.org.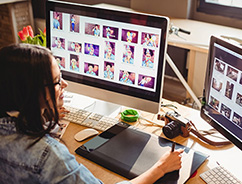 Online Courses are available through our partner Ed2Go
Start and Operate Your Own Home-Based Business
Develop the motivation, discipline, and creativity to quit your job and be your own boss.
Learn to create websites with WordPress, the world's most popular website building platform.
Computer Skills for the Workplace
Possess the computer skills needed to perform on the job. This course includes a great introduction to Windows 10 and Office 365 to provide the fundamental computer competencies you need to prosper in any workplace.
Getting Started with Google Workspace
More and more businesses are switching to Google Workspace for their business documents and communications. In this course, you will gain experience with nine great Google apps for business and personal use, including Gmail, Docs, Sheets, and Slides, and learn how they all work together in a seamless suite.
Introduction to Microsoft Excel 2019/Office 365
Learn to quickly and efficiently use Microsoft Excel 2019/Office 365 as you discover dozens of shortcuts and tricks for setting up fully formatted worksheets. This course, taught by an experience Microsoft Excel instructor, provides in-depth knowledge for beginners that will have you using Excel like a pro.